Lauro
Patriotic Afro American Roots with Silver
The red, black and green flag was unveiled to the world by the Honorable Marcus Mosiah Garvey and the members of the Universal Negro Improvement Association and African Communities League on August 13, 1920. The UNIA-ACL knew that Africans at home and abroad needed their own flag as other flags around the world could not represent the collective of African people.
The red jade, white jade and blue lapis lazuli represent the American flag, whereas the red agate, black onyx and green jade represent the International African Flag.


Agate: Agate is said to boost your ability to communicate, especially the thoughts and feelings that you receive from your higher self. Agates attract strength. Agate is a protection from bad dreams. It also protects from stress and energy drains. Agates have been used in jewelry since Biblical Babylonian times. They were used to ward off storms. They were prized gems in antiquity. The agates with banded colors were placed at the head of a sleeper to give rich and varied dreams.


Onyx: Onyx Stone is strength-giving. It may give support in difficult or confusing times, as well as during times of enormous mental or physical stress. Onyx can help release negative emotions such as sorrow and grief and guards against negativity.


Lapis Lazuli is one of the most sought after stones in use since man's history began. Its deep, celestial blue remains the symbol of royalty and honor, Gods and power, spirit and vision. It is a universal symbol of wisdom and truth.
Strongpoints of Lapis are: activating the higher mind, enhancing intellectual ability, aids the process of learning, encourages honesty.
Lapis Lazuli Stones resonate with the vibration of truth and enlightenment, and are powerful intense blue stones for opening the third eye.
A stone of protection that may be worn to guard against psychic attacks, Lapis Lazuli quickly releases stress, bringing deep peace.
It brings harmony and deep inner self-knowledge.
Encourages self-awareness, allows self-expression and reveals inner truth, providing qualities of honesty, compassion and morality to the personality.
Stimulates objectivity, clarity and encourages creativity.
Lapis Lazuli assists to confront and speak one's truth and inspires confidence.
It bonds relationships, aiding in expression of feelings and emotions.


Jade can be used to bring money into your life. Create a positive attitude towards money and visualize yourself using money creatively and productively while holding the stone in your power hand. When making an important business decision, use the prosperous energies of jade by holding it while contemplating your course of action. Jade strengthens your mental faculties and assists in clear reasoning.
Jade is also a protective stone, guarding against accidents and misfortune.
-

LOGO

BLOCKS ARE OUT OF STOCK -
Please Select Without Logo (where applicable) If You Need Your Bracelet within 4-6 weeks
Current Waiting list Status for Logo-less bracelets

Expected Shipping Within 8-12 days
Additional Info
Additional Info
| | |
| --- | --- |
| EAN | 0734888099961 |
| Weight (gr) | 30.0000 |
| Classification | Sterling Silver |
| Chainmodel | elastic |
| Bracelet Size | 19 cm, custom |
| Material | Jade, Onyx |
| Style Color | Black, Blue, Green, Red, White |
| Model Number | VLMBRC099961 |
| Size (Diameter) | 8 mm |
| Size (Width) | 8 mm |
Reviews
Sizing Chart
How to Measure your Size?
Sizing is important when selecting your bracelet.
We DO advise to just take a minute to measure your wrist circumference!
Bracelet size
Buying bracelets is much easier if you know your correct wrist size. When you order a bracelet you want to fit it properly!
Most women feel comfortable wearing a bracelet that is 7 to 7,5 inches (18-19cm) in size, which is the standard size. Men have a wrist size average of 8 inches / 20cm. The bracelet will hang between your hand and wrist bone, which is the most attractive position.
Wrist sizing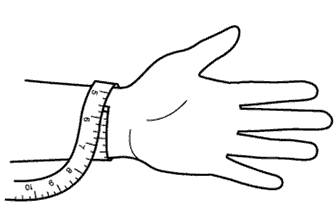 These simple instructions tell you how to measure your wrist properly so you can be sure your bracelets will fit right. When measuring for bracelets, measure tightly where your wrist is broadest. Measure your wrist with a flexible, soft tape measure just below the wrist bone (below the wrist bone is the area between your hand and the wrist bone). This is your actual wrist size, not your bracelet size. We will make your bracelet exactly the size of your wristsize, it will fit perfectly is you measure it correctly! If you want it to be a little loose, or tight, just enter the size you desire when choosing your bracelet. Do not guess your size and prevent disappointment!

Choosing a bracelet size using another bracelet
Find a bracelet that fits you correctly. Set it down flat. Measure the length in centimeters from the start to end of the bracelet. Make a note of the measurement. Order your bracelet in a size as close as possible to this measurement, or select one of our unique pieces we make especially for you and fill in the size in cm's in the available field. If you do not see a field in the product information detail page, it is not possible to get the desired bracelet in a custom size. If you do want it in another size though, please contact us and we might be able to get it done for you.


The average sizes are as follows, however we DO advise to just take a minute to measure your wrist. It's easy and when spending your money on a great piece of jewelry, you want it to fit perfectly!

WOMEN'S LENGTH
Small : 6" (15cm)
Medium : 7" (18cm)
Large : 8" (20cm)
Plus size: 9" (23cm)

MEN'S LENGTH
Small : 7" (18cm)
Medium : 8" (20cm)
Large : 8.5" (21.5cm)
Plus size: 9,5" (24cm)
Please check this Youtube video for a short illustration:
You may also be interested in the following product(s)