Natale & Valeria
Angelite and Striped Agate Distance bracelet Set
Light blue Angelite in an elegant 8mm diameter and 10mm Striped Agate. Both distance bracelets have a focal Sterling Silver logo block. Silver is the metal of emotions, love and healing. Wear one of these powerful distance bracelets and you will always have the missing bead of your favorite person you. You will always feel close, strongly connected and never far apart.

This is a 2 piece set!


Agate: Agate is said to boost your ability to communicate, especially the thoughts and feelings that you receive from your higher self. Agates attract strength. Agate is a protection from bad dreams. It also protects from stress and energy drains. Agates have been used in jewelry since Biblical Babylonian times. They were used to ward off storms. They were prized gems in antiquity. The agates with banded colors were placed at the head of a sleeper to give rich and varied dreams.


Angelite has a connection to the higher realms, facilitating angelic communication. It is a very soothing, peaceful and uplifting stone. Helpful during times of transition. Angelite is one of a group of higher vibrational crystals that can assist in smoothing the way for vibrational shifts, awareness and ascension. Healers often use Angelite to unblock energy pathways.
-

LOGO

BLOCKS ARE OUT OF STOCK -
Please Select Without Logo (where applicable) If You Need Your Bracelet within 4-6 weeks
Current Waiting list Status for Logo-less bracelets

Expected Shipping Within 8-12 days
Additional Info
Additional Info
| | |
| --- | --- |
| EAN | 0734888100339 |
| Weight (gr) | 30.0000 |
| Classification | Sterling Silver |
| Chainmodel | elastic |
| Bracelet Size | 19 cm, custom |
| Material | Agate, Angelite |
| Style Color | Black, Blue |
| Model Number | VLMBRD100339 |
| Size (Diameter) | 10 mm |
| Size (Width) | 10 mm |
Reviews
Customer Reviews
The best service and great product review by Dr David

Love our new bracelets. this is our 4th set. Will be back for more soon. The quality and workmanship is the best. The service is also fast and cost is very reasonable
Sizing Chart
How to Measure your Size?
Sizing is important when selecting your bracelet.
We DO advise to just take a minute to measure your wrist circumference!
Bracelet size
Buying bracelets is much easier if you know your correct wrist size. When you order a bracelet you want to fit it properly!
Most women feel comfortable wearing a bracelet that is 7 to 7,5 inches (18-19cm) in size, which is the standard size. Men have a wrist size average of 8 inches / 20cm. The bracelet will hang between your hand and wrist bone, which is the most attractive position.
Wrist sizing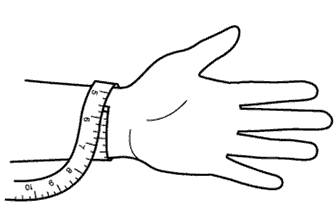 These simple instructions tell you how to measure your wrist properly so you can be sure your bracelets will fit right. When measuring for bracelets, measure tightly where your wrist is broadest. Measure your wrist with a flexible, soft tape measure just below the wrist bone (below the wrist bone is the area between your hand and the wrist bone). This is your actual wrist size, not your bracelet size. We will make your bracelet exactly the size of your wristsize, it will fit perfectly is you measure it correctly! If you want it to be a little loose, or tight, just enter the size you desire when choosing your bracelet. Do not guess your size and prevent disappointment!

Choosing a bracelet size using another bracelet
Find a bracelet that fits you correctly. Set it down flat. Measure the length in centimeters from the start to end of the bracelet. Make a note of the measurement. Order your bracelet in a size as close as possible to this measurement, or select one of our unique pieces we make especially for you and fill in the size in cm's in the available field. If you do not see a field in the product information detail page, it is not possible to get the desired bracelet in a custom size. If you do want it in another size though, please contact us and we might be able to get it done for you.


The average sizes are as follows, however we DO advise to just take a minute to measure your wrist. It's easy and when spending your money on a great piece of jewelry, you want it to fit perfectly!

WOMEN'S LENGTH
Small : 6" (15cm)
Medium : 7" (18cm)
Large : 8" (20cm)
Plus size: 9" (23cm)

MEN'S LENGTH
Small : 7" (18cm)
Medium : 8" (20cm)
Large : 8.5" (21.5cm)
Plus size: 9,5" (24cm)
Please check this Youtube video for a short illustration:
You may also be interested in the following product(s)