Giampiero
Basic Old Blue Sodalite with Silver
Old blue Sodalite with a 13x8mm handcarved silver bead.


Sodalite: Sodalite is known as a stone for truth, logic, inner peace and brings out the best in people. It helps in communication as it minimizes negativity and brings out positive view of others.
-

LOGO

BLOCKS ARE OUT OF STOCK -
Please Select Without Logo (where applicable) If You Need Your Bracelet within 4-6 weeks
Current Waiting list Status for Logo-less bracelets

Expected Shipping Within 8-12 days
Additional Info
Additional Info
| | |
| --- | --- |
| EAN | 0734888098926 |
| Weight (gr) | 35.0000 |
| Classification | Sterling Silver |
| Chainmodel | elastic |
| Bracelet Size | 19 cm, custom |
| Material | Sodalite |
| Style Color | Blue |
| Model Number | VLMBRC098926 |
| Size (Diameter) | 8 mm |
| Size (Width) | 8 mm |
Reviews
Customer Reviews
Couldn't be happier review by Noah

It had a little delay in the delivery because FedEx showed it as delivered and we did not get it. So we thought. Von Luca kept us up to date and gave all kinds of tips to get the package. In the end it was my mistake as it was just given to my roommate who did not say anything because he forgot (thanks!). The bracelet is AWESOME, love it more each day. Sorry VL for almost accusing you of non delivery whereas you delivered only after 1 day! Thanks for being patient with me I know I got a little overheated. I will tell everybody you rock!
Sizing Chart
How to Measure your Size?
Sizing is important when selecting your bracelet.
We DO advise to just take a minute to measure your wrist circumference!
Bracelet size
Buying bracelets is much easier if you know your correct wrist size. When you order a bracelet you want to fit it properly!
Most women feel comfortable wearing a bracelet that is 7 to 7,5 inches (18-19cm) in size, which is the standard size. Men have a wrist size average of 8 inches / 20cm. The bracelet will hang between your hand and wrist bone, which is the most attractive position.
Wrist sizing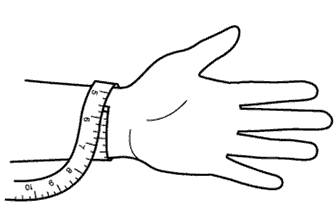 These simple instructions tell you how to measure your wrist properly so you can be sure your bracelets will fit right. When measuring for bracelets, measure tightly where your wrist is broadest. Measure your wrist with a flexible, soft tape measure just below the wrist bone (below the wrist bone is the area between your hand and the wrist bone). This is your actual wrist size, not your bracelet size. We will make your bracelet exactly the size of your wristsize, it will fit perfectly is you measure it correctly! If you want it to be a little loose, or tight, just enter the size you desire when choosing your bracelet. Do not guess your size and prevent disappointment!

Choosing a bracelet size using another bracelet
Find a bracelet that fits you correctly. Set it down flat. Measure the length in centimeters from the start to end of the bracelet. Make a note of the measurement. Order your bracelet in a size as close as possible to this measurement, or select one of our unique pieces we make especially for you and fill in the size in cm's in the available field. If you do not see a field in the product information detail page, it is not possible to get the desired bracelet in a custom size. If you do want it in another size though, please contact us and we might be able to get it done for you.


The average sizes are as follows, however we DO advise to just take a minute to measure your wrist. It's easy and when spending your money on a great piece of jewelry, you want it to fit perfectly!

WOMEN'S LENGTH
Small : 6" (15cm)
Medium : 7" (18cm)
Large : 8" (20cm)
Plus size: 9" (23cm)

MEN'S LENGTH
Small : 7" (18cm)
Medium : 8" (20cm)
Large : 8.5" (21.5cm)
Plus size: 9,5" (24cm)
Please check this Youtube video for a short illustration: