Melchiorre
Single silver 8mm grey Hematite
Nice and average sized bracelet for both men and women. The grey, luxurious hematite is heavy on the wrist and a treat for your eyes. Ideal for those who like to stack more than one bracelet because of its simplicity and elegance. The neutral grey color makes it an accessorie you can wear at all times.


Hematite: Hematite can be very helpful to assist you to embody the high vibration energy while at the same time aiding you to let go of any excess of energy.
- SILVER

LOGO

BLOCKS ARE OUT OF STOCK -
Please Select Without Logo (where applicable) If You Need Your Bracelet within 4-6 weeks
Current Waiting list Status for Logo-less bracelets

Expected Shipping Within 8-12 days
Additional Info
Additional Info
| | |
| --- | --- |
| EAN | 0734888099787 |
| Weight (gr) | 30.0000 |
| Classification | Sterling Silver |
| Chainmodel | elastic |
| Bracelet Size | 19 cm, custom |
| Material | Hematite |
| Style Color | Grey |
| Model Number | VLMBRS099787 |
| Size (Diameter) | 8 mm |
| Size (Width) | 8 mm |
Reviews
Customer Reviews
Great product!! review by Walter Wyman

I have ordered a few of the bracelets from this company and have been stoked at the quality and the speed of manufacture. This is no different, the bracelet is flawless from the packaging, to the extra bead and elastic string all makes this a no brainer if you are worried about ordering..... Don't! If it helps me feel more grounded it's just icing on the cake! Thanks for great product, customer support and fast shipping!!

Better than the others...... review by Keith A

I secured the same bracelet from another purveyor of stone bracelets. While at the PGA tournament, the bracelet just fell apart - literally, losing the majority stones. With no other good news to provide, I immediately ordered the same from Von Luca, and the quality, stone brilliance, and beauty was immediately noticeable. The stones shine with such a sheen that far exceeded that of the other. I'll NEVER go anywhere else AGAIN!

Big fan review by George

I have several of your bracelets already, love you items and superb customer service. This little hematite item was my latest addition to wear with the lighter ones. Feels stirdy and a tidy bit heavy. Very nice.
Sizing Chart
How to Measure your Size?
Sizing is important when selecting your bracelet.
We DO advise to just take a minute to measure your wrist circumference!
Bracelet size
Buying bracelets is much easier if you know your correct wrist size. When you order a bracelet you want to fit it properly!
Most women feel comfortable wearing a bracelet that is 7 to 7,5 inches (18-19cm) in size, which is the standard size. Men have a wrist size average of 8 inches / 20cm. The bracelet will hang between your hand and wrist bone, which is the most attractive position.
Wrist sizing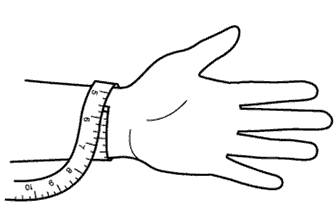 These simple instructions tell you how to measure your wrist properly so you can be sure your bracelets will fit right. When measuring for bracelets, measure tightly where your wrist is broadest. Measure your wrist with a flexible, soft tape measure just below the wrist bone (below the wrist bone is the area between your hand and the wrist bone). This is your actual wrist size, not your bracelet size. We will make your bracelet exactly the size of your wristsize, it will fit perfectly is you measure it correctly! If you want it to be a little loose, or tight, just enter the size you desire when choosing your bracelet. Do not guess your size and prevent disappointment!

Choosing a bracelet size using another bracelet
Find a bracelet that fits you correctly. Set it down flat. Measure the length in centimeters from the start to end of the bracelet. Make a note of the measurement. Order your bracelet in a size as close as possible to this measurement, or select one of our unique pieces we make especially for you and fill in the size in cm's in the available field. If you do not see a field in the product information detail page, it is not possible to get the desired bracelet in a custom size. If you do want it in another size though, please contact us and we might be able to get it done for you.


The average sizes are as follows, however we DO advise to just take a minute to measure your wrist. It's easy and when spending your money on a great piece of jewelry, you want it to fit perfectly!

WOMEN'S LENGTH
Small : 6" (15cm)
Medium : 7" (18cm)
Large : 8" (20cm)
Plus size: 9" (23cm)

MEN'S LENGTH
Small : 7" (18cm)
Medium : 8" (20cm)
Large : 8.5" (21.5cm)
Plus size: 9,5" (24cm)
Please check this Youtube video for a short illustration:
You may also be interested in the following product(s)